Cześć cześć i czołem :D
Muszę Was przed czymś ostrzec! Mianowicie, uważajcie na schody!!!
Może się wydawać,że skoro wchodzicie i schodzicie po nich tyle razy dziennie,to ta droga zawsze będzie wyglądała normalnie. Nic bardziej mylnego!
Bo pewnego dnia (takiego jak dzień poprzedni) może się zdarzyć,że spadniecie z nich w wielce spektakularny sposób.
Tak jak ja dzisiaj xD
Chociaż to może być też wina Waszych kapci. :p
Ja zwalam całą winę właśnie na nie.
Na moje heloł kotowe kapciuchy xD
Może i jest w tym trochę mojej winy, bo ja nie potrafię normalnie schodzić po schodach.
Zawsze tak szuram nogami albo się ślizgam. I tak samo było tym razem.
Tylko,że nagle aaaaaaaa jakieś dzikie akrobacje w powietrzu i siema, leżę twarzą przy ziemi. :O
Więc pamiętajcie! Nie ufajcie swoim kapciom choćby nie wiem jak były słodkie :p
~~~~~~~~~~~~
Hi hi hello! :D
I must warn you before something! Namely beware the stairs!!!
It may seem
that if go up and down on them many times a day, this way it will always looked the same and safely.
Nothing further from the truth!
Because one day

(like

the day before

)

it can happen

that

you fall

with

them in

very

spectacular way

.
Just like
I did today
xD
Although this

may be

a

fault

of your

slippers

.

:p
I think so
and

I think it's

their fault-

my Hello Kitty slippers.
Maybe

there's some

my fault too

, because

I can't

walk down the stairs

normally

. xD
Always shuffling or slips. And so it was this time. But suddenly I did aaaaaaaaaaaaaaaaaaaaaaaaa some crazy stunts in the air and hello i lying face to the ground. :O
So remember, don't trust your slippers now matter how they were cute :p
For example those:
or those
or those
or maybe those
or if you prefer a natural look:p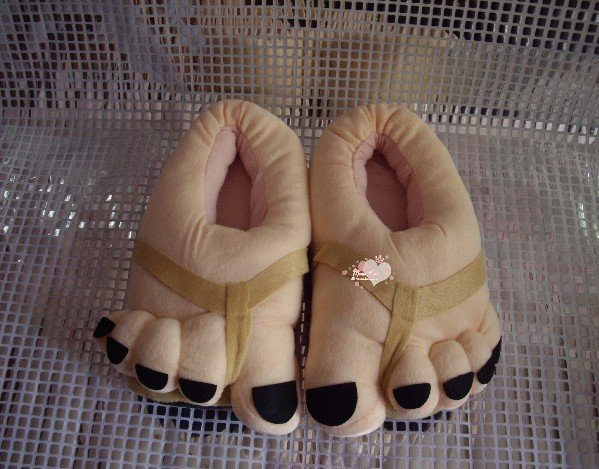 or as cute as mine :p
Dostałam je na moje... chyba 14 urodziny.


Serdecznie nie znosiłam wtedy koloru różowego i tych wszystkich słodkich słodkości :f a moje przyjaciółki zrobiły mi niespodziankę i kupiły właśnie te kapcie. Na początku nie wiedziałam czy mam się śmiać, czy płakać,ale w końcu je pokochałam ;p/

I got it forprobably my 14 birthday.

Then

I really hated

the color

pink

and all the

sweet

pastries.

:f so my friends made me a surprise and bought for me these slippers. At the beginning I didn't know

whether to laugh

or cry

,but finally I loved it ;p
The first five

images

are from google graphics.
Word for today is: